The virtual Kapfenberg Accelerator for IT, KAIT for short, is now also available as a real consulting centre at FH JOANNEUM in Kapfenberg. Among other things, KAIT promotes the founding of IT companies and supports founders with infrastructure, consulting and coaching.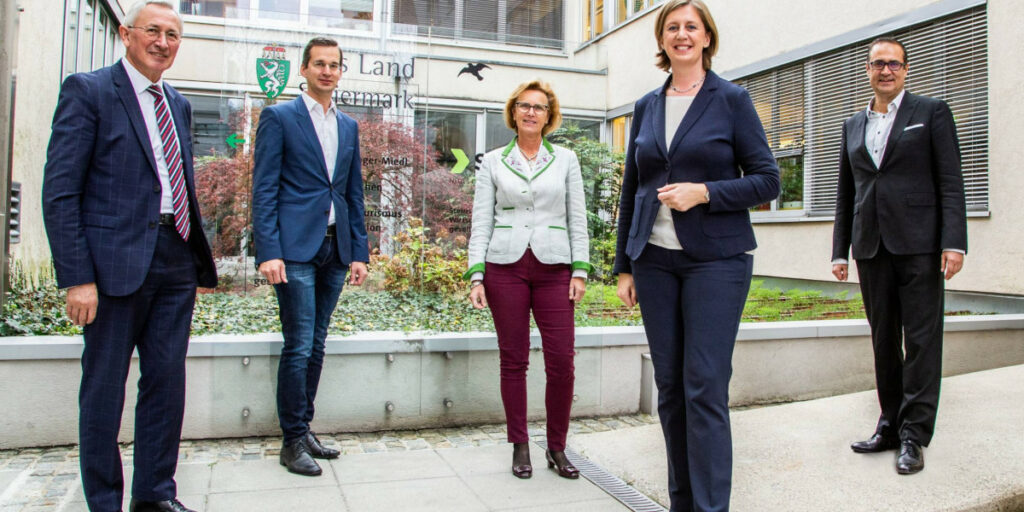 KAIT was founded in 2019 as a virtual project at the Institute of Internet Technologies & Applications at FH JOANNEUM Kapfenberg to support IT students and other young entrepreneurs who want to start their own business in the IT sector in Upper Styria. Thus, KAIT also suports founders in implementing their business idea. The project emerged from the EU-funded Accelerator project (Interreg Programme, Central Europe). KAIT has recently been expanded into a real business consultancy at FH JOANNEUM Kapfenberg. It is funded by the Province of Styria through the Styrian Business Promotion Agency SFG, and other cooperation partners such as the Bruck-Mürzzuschlag Chamber of Commerce and the Kapfenberg municipality.
"The IT sector offers great growth opportunities in the coming years. We therefore need excellently trained professionals on the one hand and new entrepreneurial ideas on the other. With the offers at the JOANNEUM University of Applied Sciences, we are addressing both areas. In addition to the computer science degree programmes, the FH has been offering comprehensive support for young entrepreneurs from the IT sector since last year with KAIT. I am pleased that attractive premises are now also available for this offer in Kapfenberg. This is another important step in taking advantage of the opportunities offered by the digitalisation initiative in Styria," said Barbara Eibinger-Miedl, Regional Minister for Economic Affairs and Research.
SFG Managing Director Christoph Ludwig: "New thinking. New support, describes the mission of the Styrian Business Promotion Agency perfectly, and with the start of the KAIT project, this mission is being met in full. The focal points of digitalisation, greendeal, IT and women as well as regionality are also part of our funding DNA. With this initiative, an environment can be created for young, innovative ideas in which the first steps are possible and the best conditions for solid growth prevail. Because, as we know, the start is particularly demanding, we are already looking forward to welcoming many new impulses and ideas to KAIT and providing them with the best possible support in the future.
The managing directors of FH JOANNEUM Martin Payer and Karl Peter Pfeiffer on the opening of KAIT: "FH JOANNEUM shows commitment to wanting to bring the entrepreneurial spirit from theory further towards practice and to accompany IT-enthusiastic young people on this path throughout. With KAIT we offer them a concrete contact point at FH JOANNEUM Kapfenberg. We look forward to the business ideas that will be brought to life at KAIT in the coming years."
Full support for IT founders
KAIT provides a comprehensive range of services: Founders can use the local infrastructure such as workspaces as well as seminar and meeting rooms at FH JOANNEUM Kapfenberg free of charge. The KAIT team, consisting of IT lecturers teaching @ FH JOANNEUM, is available for advice and supports young entrepreneurs from the first business idea to the successful company. Support is also available for funding and financing issues and for access to FH JOANNEUM networks, such as the university's business partners. FH JOANNEUM's research facilities, such as the Start-up Lab and the Cyber Security Lab, can also be used.
Sonja Gögele is project manager of KAIT and she is also head of the Institute of Internet Technologies & Applications: "With the opening of the real incubator, we are making KAIT's offerings more visible and anchoring the start-up centre even more firmly at FH JOANNEUM, at our institute, among our students and in the public eye. With KAIT, we show what is possible with an IT graduation and strengthen the topic of entrepreneurship in Upper Styria."
High on the KAIT agenda: Women in technology and networking
KAIT is open to anyone with a bright IT business idea. Sonja Gögele wants to promote one topic in particular: "We want to encourage women to set up IT companies and focus on their networking with regional companies."
Interested parties can reach KAIT, the Kapfenberg Accelerator for IT, directly via the website of the Institute Internet Technologies & Applications and at iit@fh-joanneum.at. The consultations are free of charge.